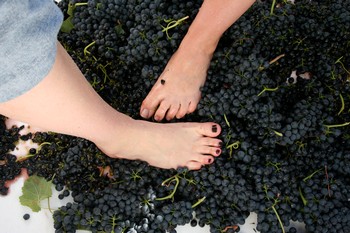 Grape Stomp Sunday 3:00
Come out and stomp grapes the old fashioned way! Your ticket unlocks a free glass of wine or beer, and a souvenir Chateau St. Croix glass! You and your stomping partner will be racing against 3 other teams to make the most amount of juice in the shortest time!
Product Reviews
Emily Hall
(Sep 13, 2022 at 7:22 AM)
I feel the grape stomp was extremely overpriced for what you got. Only one person on your team actually "stomped grapes" for about a minute and a half and you each got a glass of wine with a take home glass. This was for $50 ($25 each). I've been to other grape stomp festivals that had many more activities and the cost was much less for what you're getting. Wish we would have just done the free grape stomp in between competitions and bought a few bottles of wine, would have gotten so much more for our money!